The Weight of Grief
---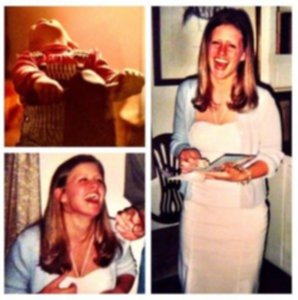 When dealing with a loved one's addiction, sometimes it feels like you're running a gauntlet, in that you're forced to withstand a series of problems that test both your physical and mental endurance. The anger I've felt throughout my sister's addiction and suicide has felt insurmountable at times, and the weight of grief brought on by that anger is often nothing short of suffocating. To this day I'm having a hard time working through it. When she was alive and struggling, I couldn't help but be infuriated with her on a daily basis. Why didn't she choose a different path? Why didn't she have the strength to say no? What in God's name was going through her head when she decided to pick up that needle for the first time? Why couldn't she just stop? Why was everyone treating her like the victim? Why was she choosing her little scumbag, weasel-faced boyfriend and his drugs over me and our family and friends and our love for her?
Why couldn't she JUST STOP?
Every day. Every day, I wanted to grab her and shake her. Or punch her in the face. I'd say the only thing stopping me was the fact that she was a lot bigger and stronger than me. At one point an ex-boyfriend of hers ended up with a broken nose thanks to her. Anyone who knows me knows that I'll run my mouth until I'm blue in the face, but the second anything turns physical I'm the first person to run in the opposite direction. But this kind of anger was enough to change me.
One day when she was living with me, I choked her boyfriend up and slammed him against the wall after I heard him call her fat and worthless. The next day I caught him selling drugs out of my house and I kicked him out. I begged Sarah to stay, with tears streaming down my face. I pleaded with her to just stay with me, to turn her back on him and his idea of life, to stay with me and get herself back on track.
She turned around and walked out the door with him.
I stood in the middle of my living room, screaming at the top of my lungs before smashing a picture against the wall and crumpling to the ground in hysterical tears.
Her addiction was consuming me.
I realized that my anger wasn't helping anyone. It was only pushing her further away, and it sure as hell wasn't helping me or my sanity. When I found myself feeling that fury taking over, I tried as hard as I could to remember who my sister was before her addiction took over.
Some days I could.
Most days I couldn't.
Because it's an incredibly hard thing to look at the person you've known and loved since they were born, to look at them as they lie right to your face, and still remember to love them. It's an incredibly hard thing to see the person you thought you knew turn around and walk out the door while you're begging them to stay. It's an incredibly hard thing to witness someone you love make decisions you'd never thought they'd make, all the while knowing that somewhere down the road these same decisions might kill them. It's an incredibly hard thing to separate the person you love from the addict they've become.
It's an incredibly hard thing to do.
I just wish I'd known then what I know now, which is that there were people out there going through the same thing we were, and they could have been part of a support system for me. Instead of letting my sadness and anger consume me, I could have had someone to talk to. Instead of being ashamed of my sister and her addiction, I could have surrounded myself with people who had loved ones fighting the same battle. They could have helped me fight mine.
I'll be forever grateful for the time my sister and I had together those six months before she died, because I was finally able to understand a little more about the disease that had taken her over. I was finally able to look in to her heart and see the Sarah I'd always believed in.
When she died, my anger reached a whole new level of intensity. I woke up filled with rage every day. Angry at my sister, angry at myself, angry at the fact that she killed herself 17 days before my wedding, angry at the fact that I couldn't bring myself to go back to work yet; meanwhile we had checks on checks on checks to write to pay for the wedding. I was angry at the people who sent her down this path in the first place, angry at everyone who enabled her along the way, angry that I couldn't save her, angry for feeling that way, and most of all, angry at this stupid goddamn disease that affects so many people, angry at the way no one ever wants to talk about it, and angry at everyone who sweeps it under the rug when someone dies at the hands of their demons.
The one thing I've learned over the years, and the one piece of advice I always pass along to anyone who has lost someone is to just let yourself feel. Feel everything – every emotion, and don't be ashamed to do it. Because if you don't let yourself really let everything out – every sob, every laugh, every scream, every profanity, every punch, every ounce of every single emotion you can possibly imagine – it will all hit you at some point down the road, and it will hit you hard enough to bring you to your knees.
Unfortunately at that point it might hit you so hard you won't be able to stand back up again.
I've lost a lot of people in my life. And I'll tell you one thing – nothing could have prepared me for losing my sister. No amount of loss, no amount of heartache, no amount of strength, no amount of anything could have prepared me for this. Sometimes it hurts so much that it scares me.
About two months after Sarah died, I realized something – I'd been trying to teach myself not to feel.
Because. How do I look back on Sarah's 29 years of life and not want to smash everything in sight because she's not here anymore to show the world her heart? How do I sit here and go about my daily life, knowing I once had a younger sister to laugh with and to be an aunt to my future kids? How am I supposed to answer people when they ask if I have any siblings? How do I keep myself from wanting to hunt down anyone and everyone who led her down that reckless path of drugs and destruction? How do you let yourself feel that much anger and hurt and confusion and wrath and not break?
All I can tell you is that you just have to try. It hasn't been easy, and I have moments almost every day where I succumb to my anger in some way -whether it's seeing someone post a thoughtless, uneducated comment about addiction on the internet, or feeling that daily punch to the gut when I remember she's gone, or seeing her scumbag ex-boyfriend who introduced her to his version of hell in the form of a needle walking around without a care in the world, or one of the 10,000 other things that manage to take my breath away and replace it with rage.
You just have to try.
I started writing. The morning after she died I posted about it on my Facebook page. I didn't sugarcoat anything – I needed people to know exactly what had happened. I was sick of seeing "RIP" status updates being met with silence whenever anyone asked what happened, or seeing people saying things like "she died in a car accident" when everyone knew the person died of an overdose. I needed people to know that this could happen to anyone. Within three days I had over 500 messages from people all over the world, thanking me for my honesty and sharing their stories with me. Every single message broke my heart all over again, but in them, I also found tremendous comfort and strength. One girl told me she lost her sister the same way, four days before her wedding. And she managed to walk down the aisle, and her family was able to be happy for her, and the day was perfect. And right at that moment I realized I could do it too. And I did. And the day was even better than I ever even dreamed.
I still write about it, all the time. It's therapeutic to me, and the messages I get from people tell me that it?s helping others, too. Every time I start getting discouraged or thinking I don't have the strength to talk about it anymore, someone sends me a message letting me know how much I've helped them or their loved ones. Just by writing. It's unbelievably humbling and incredibly amazing at the same time.
I've also been trying to educate myself on the topic of addiction, and teach other people what I've learned along the way. I've gotten involved with a group called "Attack Addiction", which was started by a couple who lost their son to an overdose right before Christmas in 2012. The people I've met within that group have become my saving grace throughout all of this. There's a lot to be said for finding yourself in the company of other people who just "get it" without you having to explain yourself. There's a lot to be said for finding yourself surrounded by people who have been right where you are, or right where you were 9 months ago when you were so consumed by your grief that you didn't know how you'd even get out of bed in the morning.
Talking helps. Sharing her story helps. Every day, my heart feels a little bit lighter. Every day I feel a little more in control of my emotions, especially the anger. Every day I feel a little bit stronger. Sometimes looking at pictures of her and seeing that smile is enough to bring me to my knees. But it's also enough to keep me going.
Because I have to keep going. It's that simple.
And if none of that works for you or you ever find yourself in dire straits, head on over to Goodwill and buy some cheap china, go outside and smash some dishes on the ground.
You'll feel better in a heartbeat.
Trust me.
"to love life, to love it even
when you have no stomach for it
and everything you've held dear
crumbles like burnt paper in your hands,
your throat filled with the silt of it.
When grief sits with you, its tropical heat
thickening the air, heavy as water
more fit for gills than lungs;
when grief weights you like your own flesh
only more of it, an obesity of grief,
you think, How can a body withstand this?
Then you hold life like a face
between your palms, a plain face,
no charming smile, no violet eyes,
and you say, yes, I will take you
I will love you, again.?" -Ellen Bass