---
Florida Drug and Alcohol Treatment Centers
---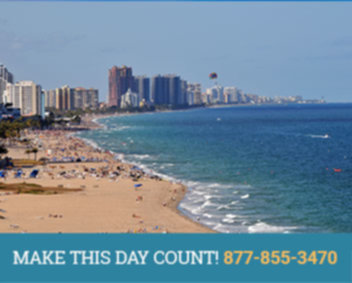 If you are suffering from a drug or alcohol addiction in the state of Florida do not be embarrassed, because you are not alone. The staff at Florida addiction treatment centers understands what you are going through and can provide you with the tools necessary to overcome the debilitating disease. Let us help you find a drug and alcohol treatment center in the state of Florida and begin the path towards recovery today.
Always remember that you are not alone in the fight against addiction. Addiction is a very common problem that anyone can suffer from, regardless of economical class. It is not something to feel ashamed of; choosing to overcome the disease and seek addiction treatment takes great courage. With the right drug treatment facilities in Florida, you can find your way back to a healthy, happy life. Just reach out to Florida alcohol and drug rehab centers today. Call us now for guidance; an addiction specialist is standing by 24/7 to provide you with the help and assistance you deserve.
Family and Friends in Florida with Drug and Alcohol Problems
If someone you are close to has a drug or alcohol problem, you can still call an alcohol rehab for help. We can provide you with the right resources to get that person on the right track. The first step, however, is making sure that the individual will accept treatment. He or she must admit to having a problem and want help getting rid of it. You must recognize the signs and symptoms of drug and/or alcohol abuse in order to know when it is time to take action.
Symptoms of Drug and Alcohol Abuse
One of the most common symptoms of a drug and/or alcohol dependency is social withdrawal. The person may spend quite a bit of time away from everyone who is close to him or her. The individual may only contact friends and family members to borrow money. He or she may then disappear for days or weeks at a time, with no reason as to why. A person who needs alcohol rehab may lash out at friends and family members when they inquire.
Another symptom of drug and alcohol abuse is physical withdrawal. Whenever a person stops drinking or using the drug of choice, he or she will begin to have painful and very obvious symptoms. The withdrawal might manifest itself as sweating and chills. The person may have sever muscle cramps and tightness. He or she may suffer from nausea or vomiting. Additionally, there may be emotional complications such as depression, anxiety, or extreme irritability.
You can help your loved one by contacting drug treatment facilities in Florida. These Florida alcohol and drug treatment facilities can provide a wide variety of services intended for achieving and maintaining sobriety. Stopping drugs and alcohol is only half the battle. Addiction is a lifelong fight. The best facilities are ones that provide help beyond initial rehabilitation.
Alcohol Treatment in Florida
Alcohol rehab centers begin by helping the client get alcohol out of his or her system. Withdrawal symptoms for alcohol addiction may last up to two weeks. Therefore, it is best for the client to be in a place that provides surveillance, comfort, and possibly some medication that eases the symptoms. Alcohol addiction is physical as well as psychological, so anyone who is suffering will need counseling, moral support, and medication. Florida treatment centers provide all three of the key elements of a healthy recovery.
Drug Rehab Centers in Florida
Drug treatment facilities in Florida provide inpatient and outpatient care. Outpatient treatment is best for people who have responsibilities at home that they simply cannot leave, such as a job or parenting obligations. With outpatient treatment, the client may visit the facility for a few hours every week for group counseling or therapy.
Inpatient treatment provides a more in-depth assortment of services, which is why its success rate is higher. Inpatient treatment also safeguards the client from environmental factors that may aggravate the addiction. Additionally, inpatient treatment keeps the client around positive people instead of negative influences on the outside. Oftentimes, a person needs to be in a different environment to promote change.
Heroin Detox Treatment in Florida
A heroin addiction is one of the most painful and dangerous addictions from which to detox. A person who desires to quit may be afraid of suffering excruciating pain and losing control of his or her body. Florida addiction treatment facilities are staffed with caring individuals who know the process of heroin detoxification. They understand that some discomfort is necessary for a full recovery. These loving staff members will provide the client with the necessary support to overcome the debilitating addiction.
Get Started with Your Drug Treatment in Florida Now
If you or someone you know has a drug or alcohol problem, do not be afraid to give us a call. Your phone call is confidential. Allow one of our empathetic representatives to guide you to the path of recovery and help you find the perfect facility with all of the necessary amenities. Not only can we listen and provide feedback in times of great struggle, but our addiction specialists on the line can guide you in the right direction to treatment. We are confident in our abilities to drastically change the life of you or a loved one. Contact us today and get the fresh start you deserve.