---
New Jersey Drug and Alcohol Treatment Centers
---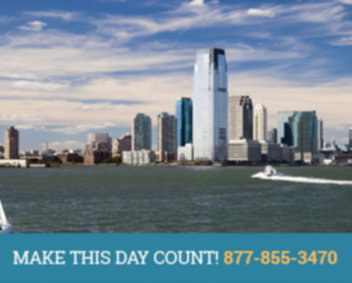 You can get your life back when you find the right support from New Jersey Drug and Alcohol Treatment Centers. Although dealing with an addiction can be difficult and intimidating, you can get the support you need to overcome the cravings and live a life free from substance abuse. Contact us today to take the first step towards recovery at one of the alcohol and drug rehab centers in New Jersey.
New Jersey Alcohol Treatment
Alcohol rehab focuses on four phases: alcohol detox, alcohol rehab, relapse prevention and aftercare. During the detox phase, New jersey alcohol treatment centers closely monitor individuals to make sure they can deal with their cravings and withdrawal symptoms. Immediately following the detox phase, patients enter alcohol rehab to maximize their chance of success in staying clean on a long term basis. The New Jersey alcohol treatment centers will then work with patients to prevent relapse. This prevention phase will work to address the underlying causes of the addiction and give the addict tools for overcoming cravings and temptations long after they leave treatment. In aftercare, addicts will work to continue their recovery for the rest of their life with a customized recovery plan.
Drug Rehab
Drug treatment facilities in New Jersey work with the same phases used in treating alcohol addiction, but they focus on the specific issues that are unique to drug addiction. Because each addiction is a little different, it is important that each recovering addict receive personalized attention and a recovery plan tailored to their own unique situation.
During the detox phase, a team of medical professionals will monitor each addict to make sure they are safe and successful in getting clean. Following detox, individuals will enter the drug rehabilitation phase of treatment where they will work to address the underlying reasons for the addiction. The drug treatment facilities in New Jersey offer a therapeutic community where addicts can work as part of a community to overcome their addictions. Recovering addicts will receive personal therapy and can take part in group sessions to get even more support during their treatment. New Jersey drug rehab programs also offer long term care to help recovered addicts stay clean long after they leave New Jersey drug rehab programs.
Cocaine Rehab
Since cocaine is one of the most commonly abused drugs in the state, New Jersey drug rehab programs are experienced working with cocaine rehab and can provide support that is tailored to those suffering from this kind of addiction. The medical professionals at New Jersey treatment facilities are knowledgeable about helping addicts overcome typical behaviors associated with cocaine addiction. This can include the risky behaviors associated with abuse and the serious negative consequences that these behaviors may have.
Heroin Detox Treatment
Because heroin addiction is associated with many complicated medical risks, the professionals at drug treatment facilities give medical attention and monitor patients 24 hours a day, seven days a week. During heroin detox treatment, symptoms typically peak within 48 to 72 hours after the last dose of the drug. Without proper medical attention, withdrawal symptoms during heroin detox can lead to life threatening seizures and convulsions. With the attention of trained medical professionals, however, each addict is monitored to make sure they come through the detox phase of treatment safely and successfully.
Prescription Drug Addiction
Prescription drug addiction can be particularly difficult to recognize and overcome because it commonly starts with a legitimate prescription from a doctor. Over time, the users of prescription drugs may find that they build up a tolerance to their prescription drugs, and doctors may increase their dosages. However, with continued use, individuals can become addicted to these prescription drugs and develop negative side effects such as depression, insomnia, hallucinations and changes in appetite. The drug treatment facilities in New Jersey are experienced in dealing with prescription drug addictions and can provide addicts the support they need to overcome their dependence on prescription drugs.
Alcohol and Drug Rehab Centers in New Jersey
Alcohol and drug treatment facilities in New Jersey are located throughout the entire state; whether you are close to Atlantic City, Elizabeth, Jersey City, Newark, Paterson or Woodbridge, you can find help that is available nearby. Choosing a treatment facility that is located close to home can help your recovery because you will know that your loved ones are not far away.
In recent years, alcohol has grown to become the second most abused substance in the state of New Jersey. Although there has been a decline in the number of admissions for alcohol and cocaine addiction since the mid 1990s, admissions for heroin addiction have increased. Of the individuals seeking drug or alcohol rehab in New Jersey, 67.8 percent are male and the remaining 32.2 percent are female.
Commonly abused substances in New Jersey include cocaine, heroin, marijuana, methamphetamine and prescription drugs. Of these substances, crack cocaine is the most widely abused drug in the state, and heroin has increased in availability in recent years. Marijuana continues to be one of the most commonly abused drugs because of the misconception that it is a safe substance.
Call us today for some assistance in locating the right support system to aid you on your path to freedom. One of the alcohol and drug rehab centers in New Jersey can give you the tools necessary to take control of your life and live free, outside of the constraints of addiction.